2020
SEC Europolis
Moscow
ECHDI installed a video screen for the Europolis shopping and entertainment center. This is a glass futuristic ceiling. As you know, this is not a problem of broadcasting saturated colors of video and images.
Thanks to the use of advanced technologies, the video screen is immune to sunlight and eye comfort. The device successfully fit into the interior and enlivened it with vivid pictures.
A successful solution was the device's deployment area. Firstly, it is located around shops, and secondly. Agree, you will have time to watch ads while sitting in a cafe for a cup of tea.
Video Screen Options:
Dimensions 10x5 meters.
Pixel pitch 10.42 mm.
Brightness is 5000 cd / m2.
Resolution 480x960 pixels.
Weight 25.9 kilograms.
The company "ECHDI" carries out a full cycle of work with LED screens - design, manufacture, maintenance and installation. We guarantee the impeccability of our work and the result that will meet your expectations.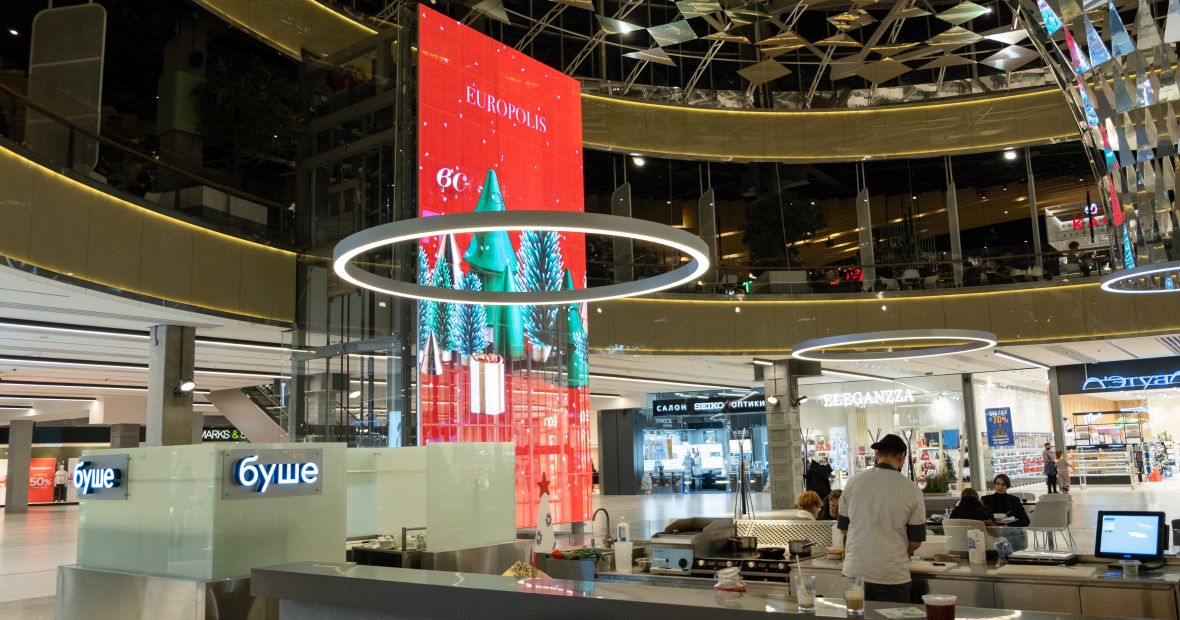 Technical specifications
Technical specifications
Pixel pitch, mm

10.42

Size, mm

1000x2

Brightness, cd/m2

5000

Transparency, %

80

Module resolution, px

96x1

Screen weight kg

13.00
$ 1 500 per m2
2017
World Food Azerbaijan 2017
Baku
05/16/2017 EICHDI specialists have designed and installed a radial screen with dimensions of 9920 x 2880 mm, in pixel pixel P2.5mm, at WorldFood Azerbaijan 2017. The complexity of the project consisted in the manual assembly of 160 x 160 mm modules.
Technical specifications
Technical specifications
Pixel pitch, mm

2.5

Size, mm

320x160

Brightness, cd/m2

4500

Module resolution, px

128x64

Screen weight kg

16.00
$ 4 263 per m2