2020
Shopping Center "Grand Yug"
Moscow
In connection with the reconstruction of the building and the opening of the new Grand South shopping center, empty space for advertising was formed. Therefore, at the beginning of 2020, new video screens appeared on its facade. These media broadcast videos in colorful colors.
Since the main specialization of the shopping center is the sale of materials necessary for the construction, repair and arrangement of housing, information on well-known brands in this field and current messages on ongoing promotions will be broadcast on the screen.
The work of the company "ECHDI" lasted a month and a half. At the same time, installation work was performed by 10 people. The main "highlight" of the work performed is the fastening of the structure in a form suspended from the upper part. In total, the project consists of four media facades, each of which is located on different sides of the building. To display the videos, the pixel pitch P16 mm is selected.
Dimensions of equipment in millimeters
Front left screen: 7200x7200.
Left: 12000x7200.
Central: 14400x7200.
Right: 21600x7200.
Front right: 6000х7200.
We guarantee the completion of any order as soon as possible. Depending on the type of building surface and the bearing capacity of the walls, our experts will select the fastening and the type of frame depending on these parameters.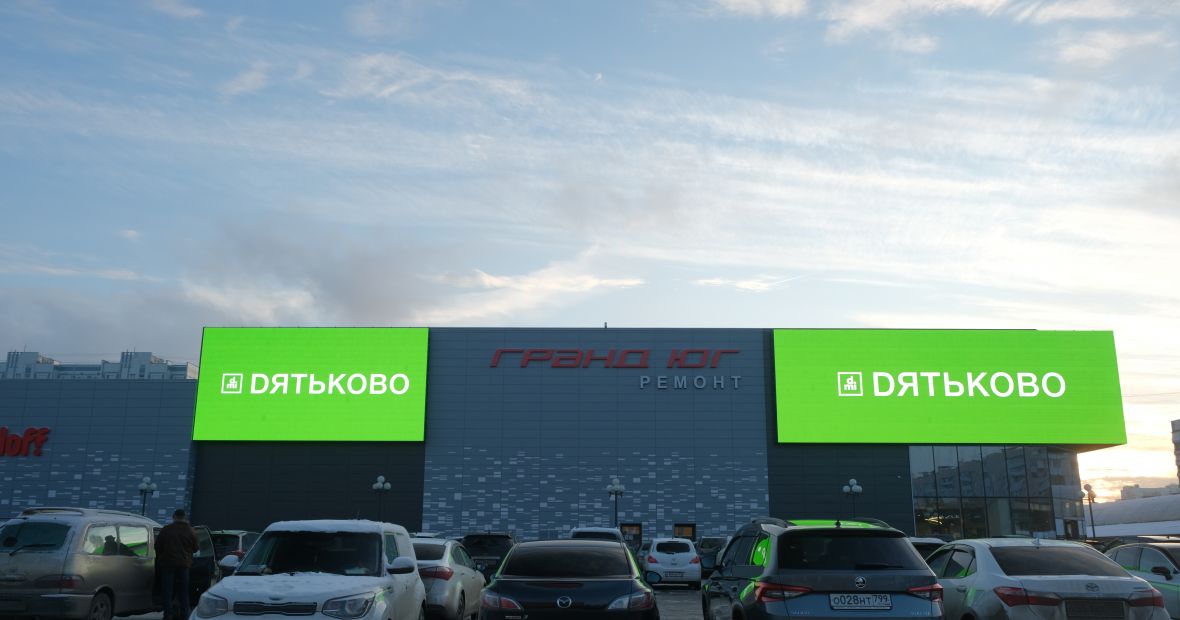 Technical specifications
Technical specifications
Pixel pitch, mm

16x16

Size, mm

1024x1024

Brightness, cd/m2

7000

Transparency, %

10

Module resolution, px

64x64

Screen weight kg

25.00
$ 1 424 per m2
2017
World Food Azerbaijan 2017
Baku
05/16/2017 EICHDI specialists have designed and installed a radial screen with dimensions of 9920 x 2880 mm, in pixel pixel P2.5mm, at WorldFood Azerbaijan 2017. The complexity of the project consisted in the manual assembly of 160 x 160 mm modules.
Technical specifications
Technical specifications
Pixel pitch, mm

2.5

Size, mm

320x160

Brightness, cd/m2

4500

Module resolution, px

128x64

Screen weight kg

16.00
$ 4 263 per m2