2016
The retail chain "Alyonka"
Yekaterinburg
Our specialists installed a video screen for the Alyonka store in the Mega mall, Ekaterinburg. The video screen has a size of 10.75x0.77 m, pixel pitch P3mm.
The EICHDI team has implemented a challenging and interesting project for the largest confectionery company in Eastern Europe, United Confectioners Holding, which includes 19 confectioneries across the country, including the legendary Red October, Babaevsky Confectionery Concern, ROT FRONT "and others.
Implementing the project, we needed to install video screens in non-standard metal structures. To solve this complexity, the modules for the video screen were bent under a certain radius (in this case, under the oval "Islands" in the shopping center) even at the factory. Also, the complexity of installation consisted in cooling the video screens: our company specialists installed a powerful cooling system and a protective additional layer of plating with penofol to ensure that confectionery products standing in the immediate vicinity of the LED screens would not melt and not lose their presentable appearance.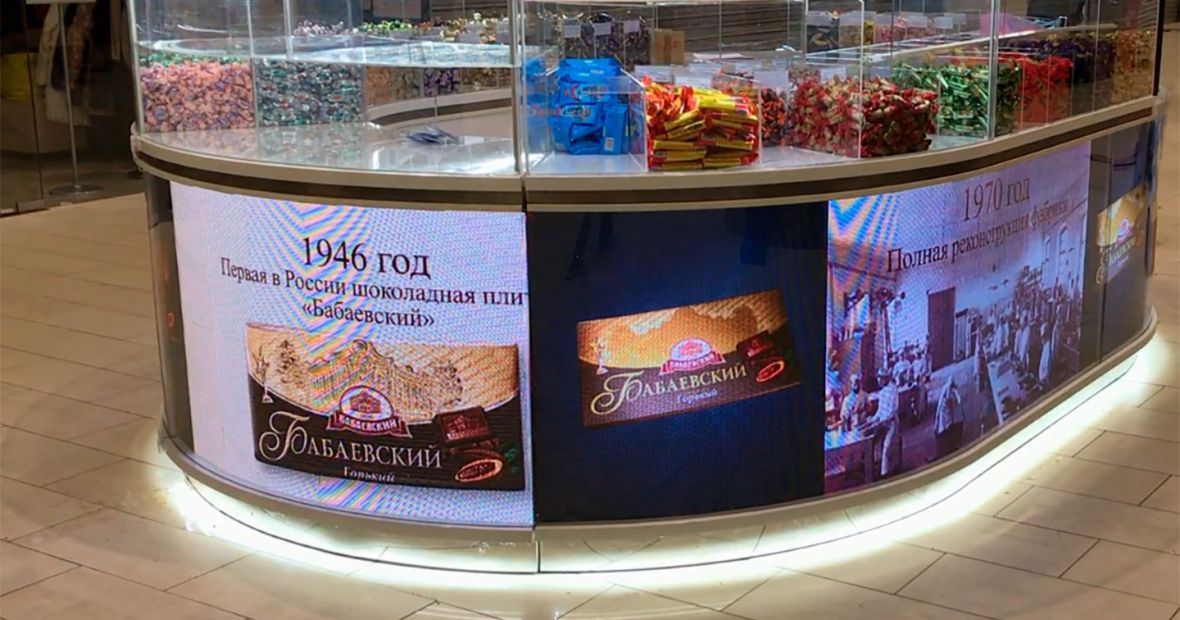 Technical specifications
Technical specifications
Pixel pitch, mm

3

Size, mm

192x192

Brightness, cd/m2

700

Module resolution, px

64x64

Screen weight kg

25.00
$ 1 486 per m2
2017
World Food Azerbaijan 2017
Baku
05/16/2017 EICHDI specialists have designed and installed a radial screen with dimensions of 9920 x 2880 mm, in pixel pixel P2.5mm, at WorldFood Azerbaijan 2017. The complexity of the project consisted in the manual assembly of 160 x 160 mm modules.
Technical specifications
Technical specifications
Pixel pitch, mm

2.5

Size, mm

320x160

Brightness, cd/m2

4500

Module resolution, px

128x64

Screen weight kg

16.00
$ 4 263 per m2