2018
The martial arts academy RMK
Yekaterinburg
The company ECHDI received a request to equip the newest martial arts academy RCC. The academy is located in the city of Yekaterinburg located at Sheinkman street 120A.
Specialists of the company EICHDI in cooperation with the company "AudioVideo Systems" installed two media facades.
Media facades with pixel pitch Р16х33 were installed on the facade of the academy, the total area of ​​media facades was 326.5 m2. A media facade with a size of 11,500 x 7,000 mm was installed in a niche above the entrance group, the second media facade with a size of 22,500 x 12,000 mm is installed at the front of the academy and repeats the radial shape of the building over the entire area.
The EICHDI company specialists plunged into the project with their heads, design solutions for the installation of the structure were developed, and projects for the electrical part were also developed.
To install LED products, more than 200 brackets, more than 1000 meters of metal, more than 2000 meters of cable were needed.
From the beginning of the installation of the structure under the media facades to the commissioning, our specialists needed only 1 month.
The Martial Arts Academy of the RMK today has no analogues in Europe.
For ECHDI, this object was not the easiest, but for us there are no impossible tasks, our specialists become one team and solve any difficulties that arise before them.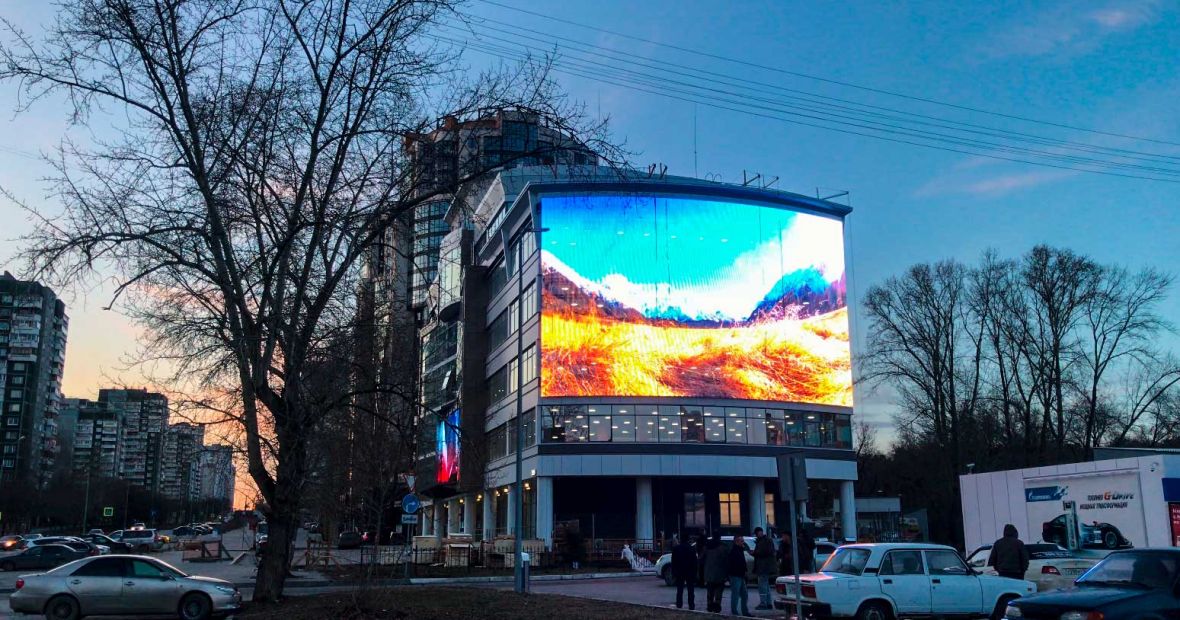 Technical specifications
Technical specifications
Pixel pitch, mm

16x33

Size, mm

500x1000

Brightness, cd/m2

7000

Transparency, %

72

Module resolution, px

15x60

Screen weight kg

12.00
$ 1 350 per m2
2017
World Food Azerbaijan 2017
Baku
05/16/2017 EICHDI specialists have designed and installed a radial screen with dimensions of 9920 x 2880 mm, in pixel pixel P2.5mm, at WorldFood Azerbaijan 2017. The complexity of the project consisted in the manual assembly of 160 x 160 mm modules.
Technical specifications
Technical specifications
Pixel pitch, mm

2.5

Size, mm

320x160

Brightness, cd/m2

4500

Module resolution, px

128x64

Screen weight kg

16.00
$ 4 263 per m2